1. Where did you meet Del was it love at first site?

Del and I were introduced by a mutual friend (who was one of my best friends). No, not love at first sight, but once we clicked we clicked!
2. Have you always wanted to be an actor?

With the exception of about a year when I considered being a doctor. I have the most unsteady hands so that was nixed rather quickly. I don't even think I could play a doctor!
3. Do you think as a celebrity that your privacy and freedom is a fair price for fame?

Shit, I've had my privacy and freedom on clearance for months now! I think I'll have to answer this question later in life. Right now, I'm fine with the exchange.

4. If you could have anybody on Sordid Lives the series if only for one episode who would that be?
I'm assuming you mean as a guest star and that would have to be Madonna. I don't know what she would do. Maybe she could just play Madonna?

5. Besides your character on the show who is your favorite?
I really love Caroline Rhea's "Noleta" and Beth Grant's "Sissy". But really, a favorite is impossible to determine!
6. In your own words what advice would you give to a young gay actor just getting into the business?
STAY TRUE TO YOU!
Ok now for the contest be the first to answer this question correctly and you will win a either a copy of Sordid Lives the movie or a Sordid Lives coffee mug your choice.
The question is..............
Name Jason's two favorite holidays?
I just want to say thanks Jason for taking time to do this interview!

Don't forget that
Sordid Lives the Series is on Logo
tonight!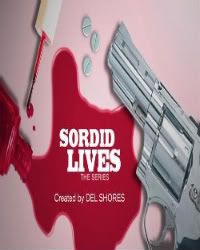 Later from Tampa Bay!